Most of INSTA-BRITE's services are requested to improve or maintain the appearance of our customers' investments. Cleaning Kitchen Exhaust systems is the exception. Our efforts here are focused on the removal of serious hazards of fire caused by the accumulation of grease and oily residue inside your kitchen hood exhaust system.
Kitchen Exhaust Cleaning Massachusetts
Our services are provided by 8 Massachusetts certified cleaners and 3 Boston licensed cleaners. Cleanings or inspections are scheduled at your convenience in order to avoid interruption of your preparation and cooking operations. We are dedicated to providing the complete cleaning of your exhaust system in a professional, efficient manner.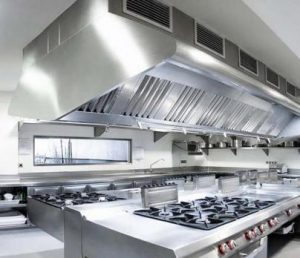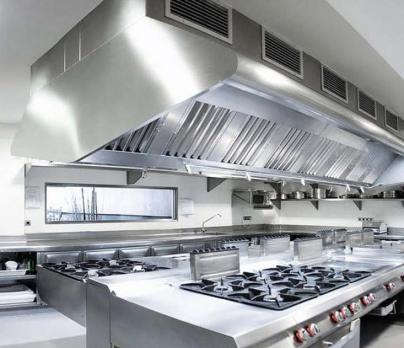 Employing a large group of Massachusetts and Boston certified employees to perform these services, INSTA-BRITE takes this fire-prevention responsibility very seriously. The maintenance services we offer include the complete cleaning of the entire kitchen exhaust system from the fan on the outside of the building down all of the accessible ductwork, and inside the hood above the cooking equipment. Our follow-up service report documents our findings to ensure you are made aware of any issues before they become a problem. We install required hinge kits on fans and as necessary, proper access panels in vertical or horizontal ductwork.
We place a sticker on the outside of your hood showing that the system was cleaned according to National Fire Protection Association Code 96 and Mass Fire Code 527 CMR 11.00 and the date of the next scheduled cleaning service. This sticker and the after-service follow-up report gives inspectors (including the local fire or health department or your insurance company) confidence that your exhaust system is being maintained properly.
Commercial Restaurants Kitchen Exhaust Power Washing MA & New England
Many restaurant and Kitchen managers rely their kitchen exhaust cleaning company to help maintain their exhaust systems.  Their responsibilities include ensuring that the restaurant is within NFPA 96 code and safe from the risk of fires.
Many restaurant owners are not educated on how critical is to properly maintaining the exhaust system.  Many, put a maintenance program in place, and then trust in the hood cleaner to manage the rest.
When bidding out the hood cleaning, obviously, the "bottom line" is always important when running any business.  Keeping that in mind, when other kitchen exhaust cleaners approach an owner, make sure that that the service and product are equal, do not make decisions based solely on price. The service needs to be the same and necessary to maintain safety and up to NFPA 96 code.
All horizontal duct work needs to be serviced and the exhaust fans need to be cleaned. Inaccessible areas of the duct work need to be addressed so that excessive grease build up does not occur.  Just be sure that the kitchen exhaust cleaning company performs all necessary services.
Following up with on the vendor's work is a very important step in managing your exhaust system. Many companies offer free inspections of your system. It is suggested to have your exhaust system inspected occasionally by another cleaning company
Although most grease duct or hood cleaning companies have each of their customers' interests in mind, they do not OWN those businesses.
The safety of the system, and grease accumulation should be monitored by the restaurant employees between cleanings.  The Kitchen Exhaust Cleaning Company will initially set up the frequency of the hood cleanings by determining which category the restaurant, or kitchen falls into listed on the NFPA 96 Table 11.4 below:
NFPA 96  Table 11.4 Exhaust Cleaning Inspection Schedule

Type or Volume of Cooking
Frequency
Systems serving solid fuel cooking operations
Monthly
Systems serving high-volume cooking operations such as 24-hour cooking, charbroiling or wok cooking
Quarterly
Systems serving moderate-volume cooking operations
Semiannually
Systems serving low-volume cooking operations, such as churches, day camps, seasonal business or senior centers
Annually
This table is only a guide line for inspection frequency, not cleaning frequency.
Once this frequency has been set by the kitchen hood cleaning company, it is best to monitor the grease build up within the hood system between services.
You and your vent hood cleaning company can set up an initial cleaning frequency, however it is your responsibility to monitor the system between the predetermined frequencies. The exhaust cleaning or hood cleaning company will not know if your volume changes causing the kitchen exhaust system to need a cleaning with more frequency.
The general manager or the restaurant or hotel kitchen manager should responsible for monitoring the grease build up in your system using the grease comb. We recommend that monitoring the amount of grease, prior to the predetermined frequency set.   If a cleaning is required before the pre-determined date of service, you would need to notify your cleaning company.
These steps will help to protect your kitchen or your business from fire.
NFPA 96 Reference Material for kitchen exhausts and hoods cleaning

NFPA 96,  11.6.2 States that "Hoods, grease removal devices, fans, ducts, and other appurtenances shall be cleaned to remove combustible contaminants prior to surfaces becoming heavily contaminated with grease or oily sludge."
NFPA 96 goes on to explain this code in Annex A, A.11.6.2 "Hoods, grease removal devices, fans, ducts, and other appurtenances should be cleaned to remove combustible contaminants to a minimum of 50um (0.002in.).