1. How To Build a Deck
Introduction
Building a deck can be a quite expensive thing to take, and as such, requires careful planning, special tools and a number of materials. It is important to check with local authorities concerning permits, and also clear your plans with the necessary regulators before proceeding.
Tools and Materials Required
Post hole digger
Level
Power auger
Tape measure
Hammer
Power drill
Power planer
Quick clamps
Other materials needed include:
String
Concrete forms
Composite decking
Spray paint
Wooden stakes
Concrete
Pressure-treated lumber
Redwood pieces
Steps involved in Building a deck
 Plan the Dimensions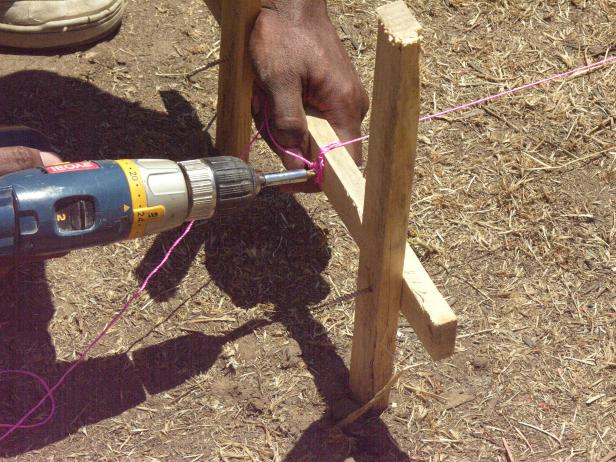 Take a measure of the yard dimensions, and center the placement of the deck with the use of strings tied to wooden stakes. Measure continually, and keep adjusting the stakes until strings form a square and level representation of the deck dimensions.
Mark the Ground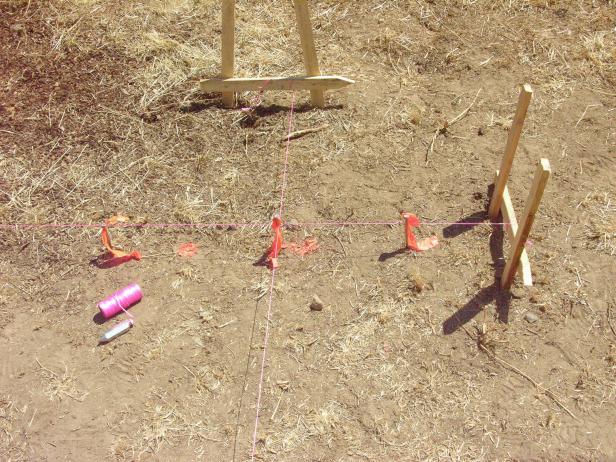 With the help of bright spray paint and orange flags, mark the ground to denote the deck's four corners and midpoints. These will indicate the placement of the deck's eight support posts, known as caissons.
Break Ground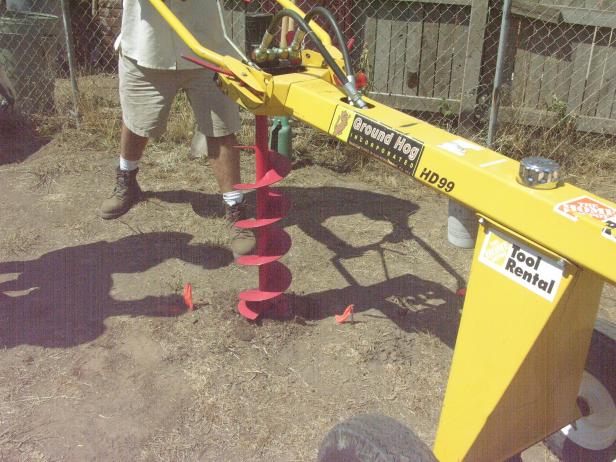 Remove temporarily the stake and strings and bore 15-inches holes at the marked locations using a power auger. Remove any leftover dirt using a posthole digger.
Form the Concrete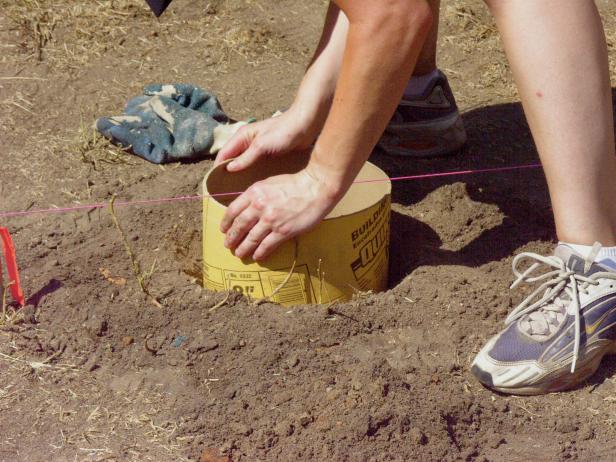 If, for instance, the yard slopes away from the house, extra height needs to be added to the lower holes to reach the level string. To do this, use a cardboard tube cut to length and rest the segments on the lower holes. These then become your concrete forms.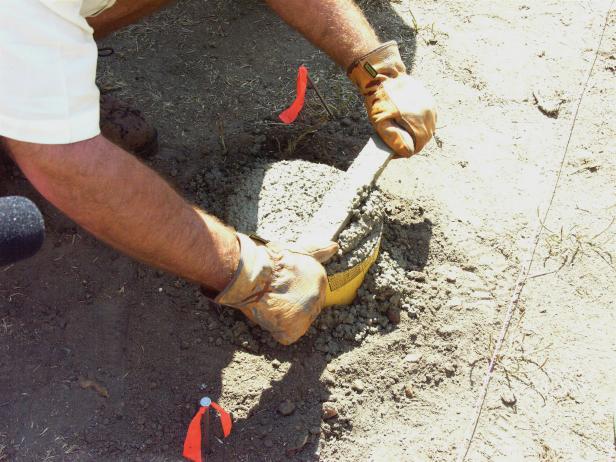 Mix a batch of concrete, shovel it into the holes and lop off excess with a spare wood stake. Embed a J-bolt into each caisson before the concrete cure for 48 hours. This will be used to help hold down the deck.
Start the Deck Frame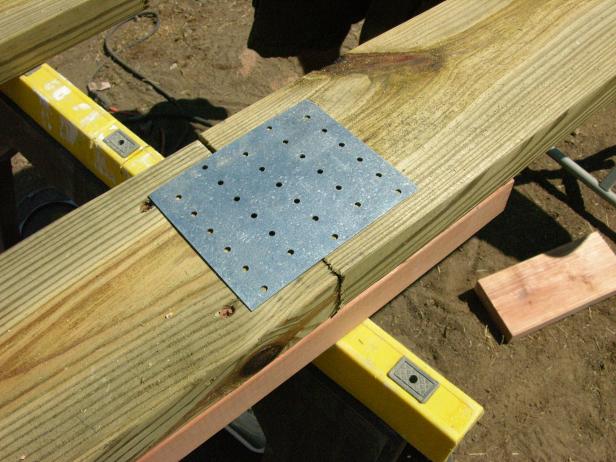 Forming the perimeter and the center beam should be the first thing to do here. After cutting a number of boards to length, screw treated lumber and redwood together to form a double-thickness perimeter boards. Since the center beam is hidden, use pressure treated lumber. Nail on steel bracket ties to give lateral support and make flush both boards with an electric planer.
Place the Main Boards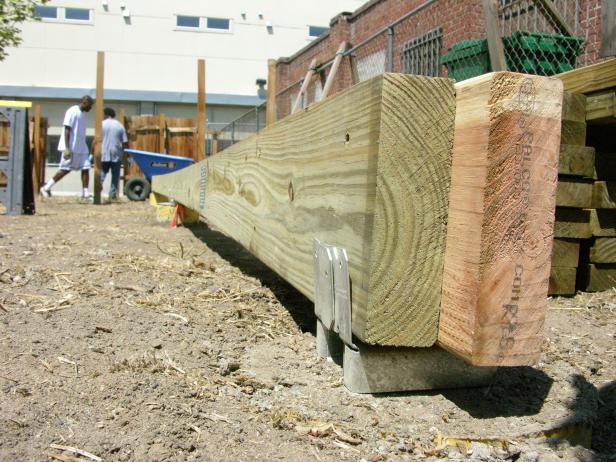 Fit the four perimeter boards on anchor plates set on the caissons. With the main boards in place, nail the corner brackets to secure them together.
Finish the Frame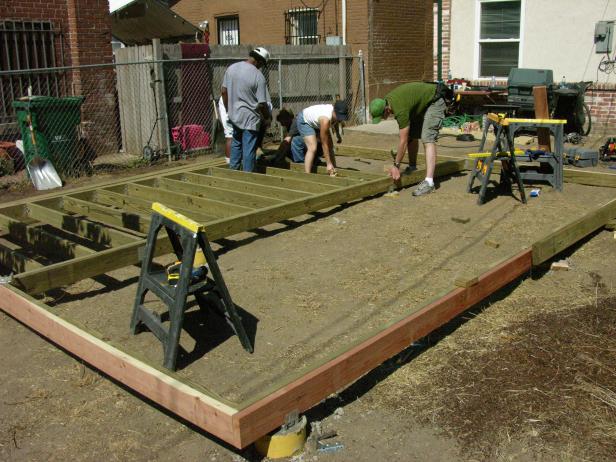 While the perimeter is completed, install treated joists to finish out the frame. After the  installation of each of the steel joist hangers at 16-inch intervals, arrange the joists and nail them in.
Install Decking Material
After attaching all the joists, complete the deck my installing the decking material. Begin installation by squaring up the first piece of composite of the deck and attach them to the underlying joist with composite decking screws. Continue to screw down the decking, while allowing for a 1/4″ gap between each plank. Attach several rows and stagger the cut seams to get a more structural and aesthetic value.
Complete the Deck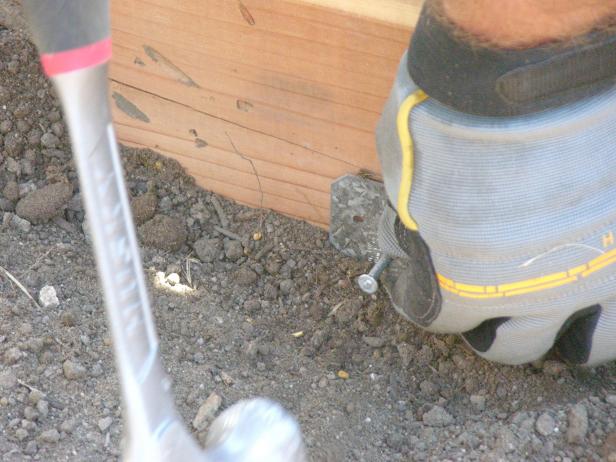 For the completion of the deck, fasten permanently wood portions to the caissons by bolting down the anchor brackets and nailing through the perimeter.
Credits: diynetwork.com
Deck Construction plan
While planning to construct a deck, you need the following basic drawing materials to get an accurate deck plan, they are; a pencil, a ruler, and a graph paper.
Make a drawing of the deck to scale on the graph paper (typically 1/4″ to the foot). You'd equally need a plan view, a site plan, and one or two elevations so you could  achieve your aim. You might also want to draw a detailed plan for complex parts of the deck, but this might seem tedious. However, it's worth all efforts invested in the project to make it go smoothly.
Take measurements
A deck plan begins with measurements of the property. Take a 100′ tape, a pad and pencil along with you to the site and take a measurement of the distance from the house to the property lines, you should take the measurement of the house dimensions as well; other locations where you have the windows, doors, dryer vents, electrical outlets and water valves should be included in the measurement.
What's a site plan and why do you need to draw one?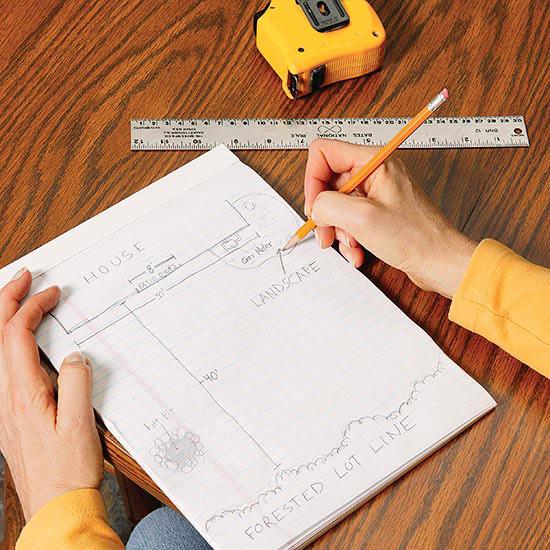 A site plan is an indicator or a drawing showing you the boundaries of  your property, the house and every other major features.  A site plan helps to show the distances between elements in your landscape that might cause hindrance during the deck construction process. A simple deck plan is a sketch that has all these measurements. And if you need to do a more complicated deck plan, then you'd use a scaled drawing.
Make detailed plans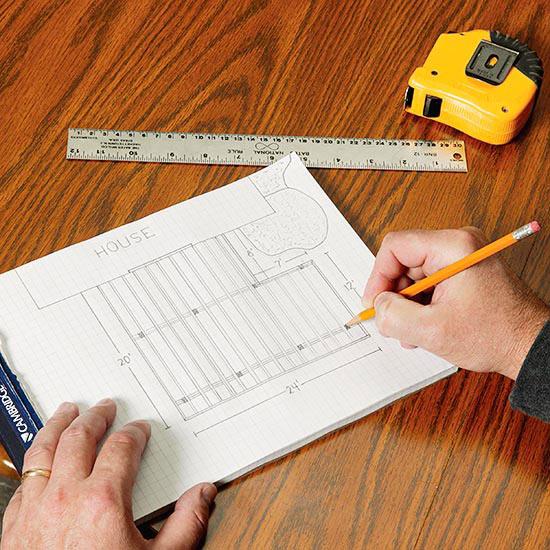 With a detailed plan that gives the number count of every framing member, you can easily get the total number of lumber pieces that will be needed for the construction work, hence, saving you more money. A detailed plan helps to show obstacles and proffer solutions  to work around them.
Complete a plan view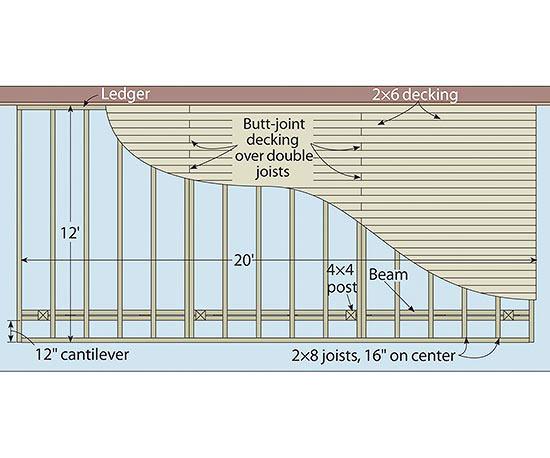 A plan view gives the deck an aerial view. It shows the precise location of piers, beams, and joists. A plan view, sometimes, may include a partial view of the decking, including the railing, and all other structures attached to the deck. The drawings as contained in the plan view is a combination of the frame view together with the decking installed above the beams and posts. It is therefore advised that these two views should be drawn separately if the drawing is for a more complex deck; that is, the foundation and framing plan should be drawn first, then tracing paper should be used to produce the finished view. Remember to include all dimensions (both length and width), joist and beam spacing, as well as material sizes.
Credits: woodmagazine.com
2. Wood Deck Design Ideas
Wood is the most preferred material for decking and this is because of its natural beauty and warm and attractive appeal that beautifies wherever it's installed. Wood also offers incredible versatility which allows for different styles, design and usage. The following decking ideas will give you a sense of how to create an incredible and sustainable design with wood.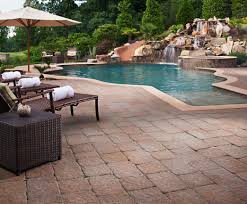 Outdoor areas of your property offer a comfortable area to enjoy various activities outside. The residential property in the picture features several different outdoor areas which includes dining area, pool, outdoor kitchen and sauna. Wood decking has been used to connect together all these spaces in very attractive and scenery way, and also provides durability.
Credits: installitdirect.com and kebony.com
Decking as Seating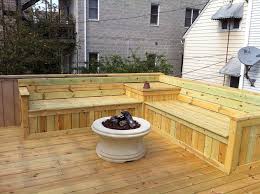 This features a specific, long seating area through the creation of benches out of deck wood. The wooden deck is used to create a unique seating area that expresses a mix of form and functionality into one great piece.
Credits: gccourthouse.com
Private Terrace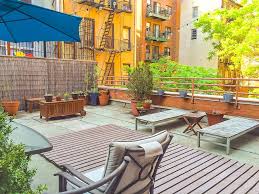 Wood deck designs come in all shapes, sizes and styles. Here, the wooden deck extends from the house to create a private retreat for the resident. Wide wood planking is used to create a platform that defines the area which distinguishes from the rest of the yard.
Credits: vrbo.com and kebony.com
Durable Pool Decking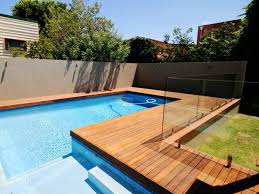 Pool decks have particular needs that go beyond traditional decking. Therefore, the best wood to use for a deck that will be surrounding a pool is a modified wood that has been treated to withstand moisture and wear.
Credits: perthtimberdecking.com and kebony.com
Pedestrian Walkway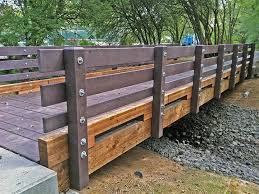 Wood decking can make for a unique and elegant pedestrian walkway like the McMillan Park Bridge / Beaverton shown above. A wood decking usually provides a bold statement that really catches the eye.
Credits: westernwoodstructures.com/index.php and kebony.com
Playground Decking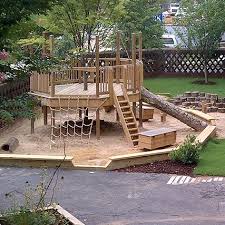 This wooden playground features simple structures for kids to play. In addition, wood is both economical and durable, so this installation is viewed favorably by parks departments as well.
Credits: naturalplaygroundsstore.com and kebony.com
Multi-Layered Design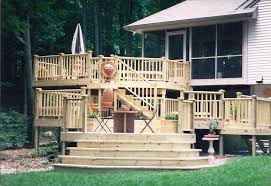 This wood deck construction is made up of multiple levels, which include  benches, ramps, step and walls , all made from wood which gives it a beautiful appearance.
Credits: kalamazoodecksandmore.com and kebony.com
3. Deck Railing Ideas
Deck railing is an integral safety feature, it is also a key component of your entire deck design. Choosing a deck railing design is like putting icing on the cake of your deck-building project. You can have a railing system that matches the material of your deck or mix it up using different base materials.
Composite + Vinyl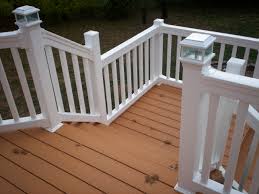 Composite and vinyl deck railings come in different styles and colors. The structural core of the system comprises pressure-treated wood posts covered with a composite or vinyl sleeve. Some systems offer mix-and-match baluster materials, such as steel and aluminum spindles.
Credits: decoregrupo.com and  diynetwork.com
Glass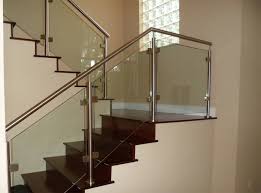 Glass railing makes for an attractive rail system, but can be very expensive. Use tempered, shatterproof safety glass. Look for modular railing systems with aluminum posts and supports. Choosing tinted glass helps prevent birds from flying into clear glass.
Credits: nicholasprojects.org and diynetwork.com
Metal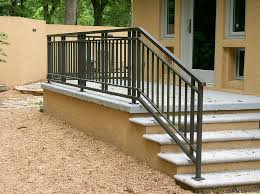 Metal deck railings are made of either powder-coated aluminum or steel. Although they are both rugged aluminum and rustproof.
Credits: lambertandwalz.com and www.diynetwork.com
Cable Railings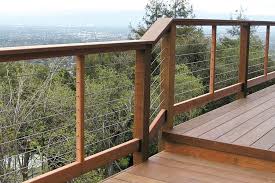 Cable deck railing systems also offer another great way of opening up views and to give your deck a modern look. They include stainless steel cables and posts made of wood, aluminum, or composites.
Credits: jacshootblog.com and diynetwork.com
Wood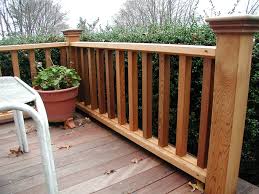 Wood railings can be one of the cheapest and most expensive railing systems depending on the wood type.  With pressure-treated wood being the most economical to tropical hardwoods that can cost up to five times as much.
Credits: dohertysalehouse.com and diynetwork.com
Lattice Arbor
Lattice panels have a substantial homemade comfy feeling, and the overall effect is dignified by the addition of a slender overhead structure.
Credits voguehome.org and decks.com
Stone, Metal and Wood Deck Railing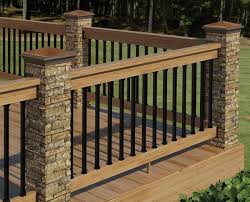 This deck railing is built a wooden top with horizontal metal rails and large stone pillars and it's very sturdy and low maintenance. The color theme agrees with the composite decking. You too can choose this option to have an attractive, warm and comfy outdoor living space
Credits: hative.com
4. Outdoor Deck Designs
When planning your home exterior design, outdoor deck is one of the important things you should consider, as it plays such a key role for your exterior. It's very important to give your design an ample thought before diving in.
Below are a few design ideas you should consider.
Ultramodern Oval Deck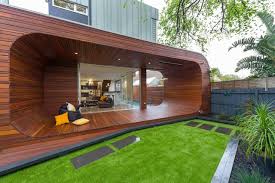 An outside-the-box deck design.
Credits: houzz.com.au and freshome.com
Sleek Outdoor Kitchen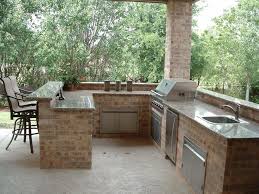 This features an outdoor kitchen space on a deck.
Credits: mokapop.com and freshome.com
Two-Tier Wood deck design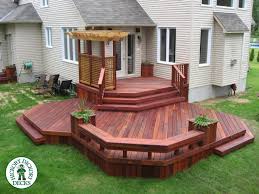 A deck with multiple levels adds lots of architectural interest to your space while also giving you more control over the final design.
Credits: decks.ca and freshome.com
Outdoor Fireplace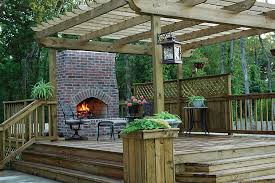 Bring inside comfort outside by creating a real fireplace on your deck entertainment space.
Credits teen10x.info and freshome.com
Outdoor Pool Deck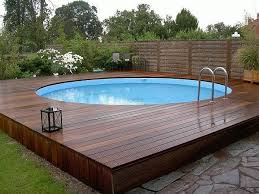 Use a wooden deck beside a pool to create a more elegant look that is fully functional for swimming and entertainment.
Credits: yodersmart.com and freshome.com
Statement Gas Fireplace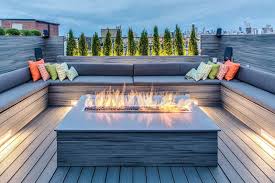 This design features an elegant, ultra-stylish outdoor gas fire pit.
Credits: designingidea.com and freshome.com
Modern Open Layout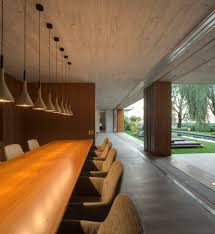 This open layout dining hall creates a relaxing space to spread out and enjoy outdoors.
Credits: dobkanize.com and freshome.com
5. In ground Pool with Deck Ideas

Limestone  Pool Deck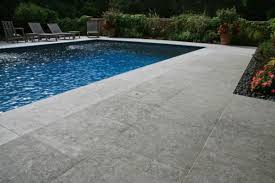 The textured limestone is the best material to construct an in-ground pool because of its slip resistance and ability to remain a cooler temperature even in the southern summer sun.
Credits: melcertile.com
Paver Pool Decks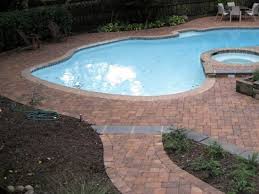 Pavers can be either made of brick or concrete, and are available in several colors and thicknesses. Interlocking pavers connect to each other, while other paver types are pushed tightly together, and held in place by an outer edge.
Credits: concretenetwork.com and swimmingpool.com
Wood Decks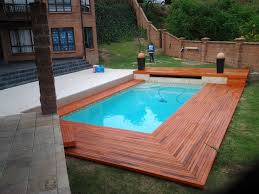 Wood is a popular decking material because of its ease of construction and affordability. With wood decking, however, there is need for a constant preventative maintenance in order to ensure its continued luster.
Credits: seg2011.com and swimmingpool.com
Tile Decks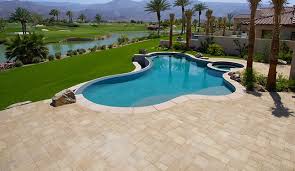 Although glazed tile is too slippery for pool decks, unglazed tiles, however, can add a touch of class to your backyard. Square tiles are the most common, but you can find different shapes and sizes from big dealers.  Tile is available in many designs to serve as a replacement for wood, marble, stone or brick.
Credits: swimmingpool.com
Stone Decking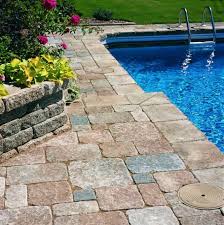 Stones for pool decks are available in many sizes, shapes and colors. They are great for adding a natural aesthetic to your yard.
Credits: architectureartdesigns.com and swimmingpool.com
Poured Concrete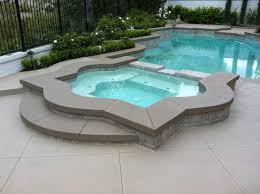 Poured concrete is popular both for affordability and malleability. Concrete can be finished in numerous colors, and also can be stamped to look like stone, tile or brick.
Credits: restoracrete.com and swimmingpool.com
Artificial Turf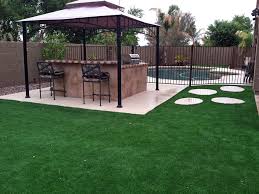 Synthetic grass might be the best material for your poolside deck, especially if you live in an area affected by drought. Because it's not real, and does not grow, there is no mowing needed, and also it doesn't go brown or dry looking.
Credits: allgreengrass.org
6. Above Ground Pool Decks
Well, you may say that an Aboveground pool is less attractive than an inground pool, but it doesn't have to be! With a touch of some creative planning, proper grading and a good decking idea, an aboveground pool with decks can be truly astonishing and attractive, and it will cost you just a  half as much as to build one  in-ground pool.
 Enclosed Above Ground Pool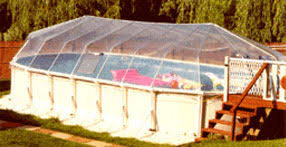 Creating an enclosure for an above-ground pool makes it a walled, fenced backyard destination. Built on a platform with a surrounding deck, the pool area turns into a private retreat, particularly with a container garden, lounge chairs and furniture.
Credits: fabricosundomes.com and thespruce.com
Side Motifs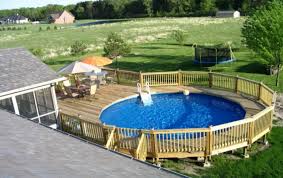 This model gets a sophisticated look with exterior panels surrounding the pool that bear a decorative motif and connect with the other panels. It's a simple but effective way to personalize an aboveground swimming pool and gives it a more attractive, customized look.
Credits: showyourvote.org and thespruce.com
Above the Deck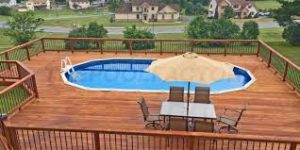 This aboveground swimming pool has a wooden deck surrounding it. The pool is not completely sunk in, that is, the top of the pool isn't flush with the top of the deck. It's raised at about 3-4 feet above the level of the raised deck.
Credits: blog.thepoolfactory.com and thespruce.com
Kid's Paradise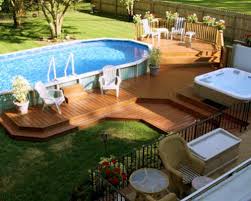 This shows a very family-friendly backyard, which houses a custom-built playhouse and above ground swimming pool. The pool area has a deck that allows swimmers to dry off and with plenty of sitting room while watching water activities.
Credits: thespruce.com
A Round Above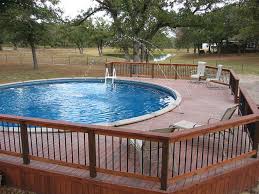 One of the many advantages of an above-ground pool is that a fence can be attached to the pool's sides, creating an almost seamless vertical safety wall. The safety barrier is also higher than the recommended average 5-foot pool fence for in-ground pools.
Credits: electricshepherdband.com and thespruce.com
Fenced In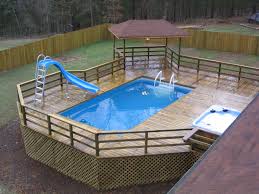 The advantage of having an above-ground pool is that it is raised above the ground level and therefore is not quite accessible to children under 5 years. Fencing is added around the top rim of the pool and a gated stairway leading to the pool makes it even safer.
Credits: pattons.biz and thespruce.com
Decking Connection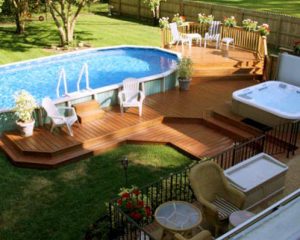 Above-ground pools such as this type has the full functionality of an in-ground pool, which includes a spa and two private deck or patio areas. Wood decking connects the house to the separate decks, hot tub, and pool.
Credits: thespruce.com
7. Deck Lattice Alternatives
Although, lattice is very affordable and not too hard to install, but many homeowners still find it unattractive. Fortunately, you have several attractive alternatives to choose from when it's got to do with skirting your deck. Whatever your goal is, either to blend your deck into the rest of your home or simply give it a distinctive look, your choice of skirting will tell.
Composite Trim or Skirt Boards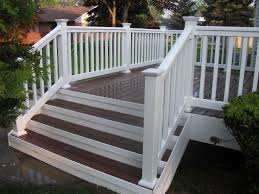 You can order composite trim or skirt boards that match your decking. You can use the same clapboard siding on your house to close off the underside of the deck.
Credits: contractortalk.com and hunker.com
Wood Panel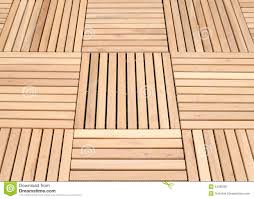 You can use wood panel to hide the areas under your deck. It may be an expensive alternative, but it provides a perfectly finished look.
Credits: dreamstime.com and hunker.com
Stone or Brick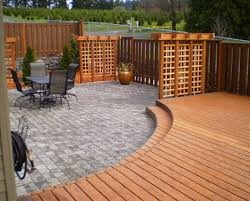 This is particularly applicable to decks that are close to the ground. You can choose brick that coordinates with the brick on your home, or stack pieces of flagstone between the ground and the underside of the deck for a more rugged look.
Credits: bullfrogspas.com/ and hunker.com
Plants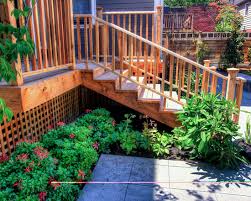 Plants can offer an alternative to concealing the areas underneath your deck. Evergreen shrubs will hide the area year-round.
Credits: stevenwardhair.com and hunker.com
Decorative Ground Cover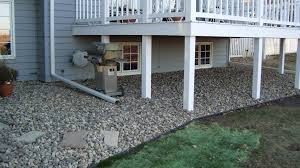 There is no reason why you must close off the area under your deck, so another option is to forgo skirting altogether. You can use decorative rocks under the deck area.
Credits: frontyardlandscapeideas.blogspot.com and hunker.com
Vinyl Decking Material
This skirting idea is sometimes questionable as it may be costly and hard to work with, however, it can serve as an alternative to lattice under deck. The same vinyl siding that can be found on the sides of homes; and can work in a porch skirt also.
Whether using wood, vinyl, plants or brick to complete your deck skirt masterpiece, you will find that each offers their own unique appeal and likeness.
Credits: renovatethat.com  and hunker.com
For all your Deck cleaning and deck pressure washing needs please call us at 781-447-0022